Available Non-Surgical Treatments to Rejuvenate Your Skin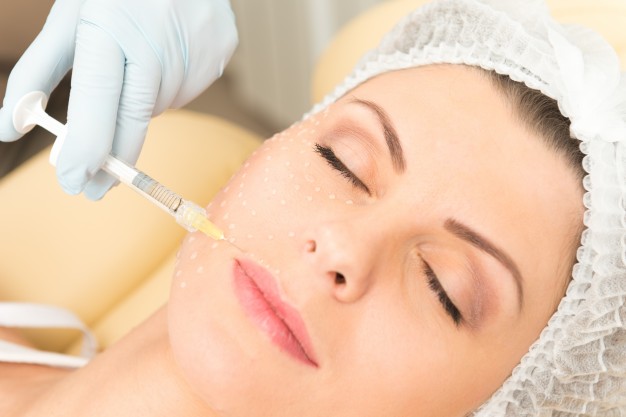 As we age, our skin loses the subcutaneous layer of fat and the elasticity that lend our appearance its youthful, soft glow.
Although reducing sun exposure, hydrating well, and eating a healthy diet can mitigate the signs of ageing, even the healthiest habits cannot stop the hands of time completely.
Luckily, thanks to recent advancements in facial aesthetics, there are now various non-surgical treatments available on the market to help you rejuvenate your skin and diminish fine line and wrinkles.
But which of these treatments is right for you? There is no one treatment that handles all skin issues and some treatment may be a better choice for your particular skin than others.
The following methods are some of the top non-surgical treatments for ageing skin.
1. Injectables
Target areas:
Cheeks
Lips
Chin
Forehead
Jawline
Under-eye
Crow's feet
Above the eyebrows
The loss of collagen and break down of fat under the skin are the primary sources of the development of wrinkles as we age. Injectable fillers are designed to fill in the lines and folds of the face by restoring lost volume to the area.
Because they are composed of natural ingredients, most fillers are short term solutions, and further treatments will be required to maintain progress.
Some of the most popular injectable treatments include:
Today, most dermal fillers utilise hyaluronic acid, a sugar substance that naturally occurs in the skin.
Hyaluronic is a moisture magnet that binds to water molecules, keeping the skin hydrated and plump. HA dermal fillers continue to improve the appearance and health of skin over longer periods by stimulating collagen growth and blood flow to the area. Because of this, you tend to achieve better results with each treatment.
Hyaluronic acid is a natural substance that will eventually be absorbed into the body and treatments typically last for six months to one year.
Botulinum toxin, commonly known by the brand name Botox, is a muscle relaxer injectable that works to "paralyse" strategic muscles in the face to smooth out fine lines and wrinkles.
If your aim is to remove the deep wrinkles caused by facial tension, such as crow's feet and forehead lines, Botox may be the perfect treatment for you. Botox injections stop the small muscles of the face from contracting and allow wrinkles to even out naturally.
Results are typically visible within one to two days of your Botox treatment and last anywhere between four months and one year. Like dermal filler injections, the results of Botox treatment improve with continued use.
A liquid facelift is a term used to describe a combination treatment that includes both muscle relaxers and dermal fillers to alter the facial profile and maximise treatment result.
2. Skin Treatment
Target areas:
Wrinkles
Fine lines
Uneven skin
Damaged skin
Skin treatments are aimed at giving the skin a smoother, more even appearance by removing the top layer and stimulating the growth of healthier skin.
Some of the most common skin treatments include:
In a chemical peel treatment, an exfoliating chemical is applied directly to the skin, causing the skin to blister and flake off. The old, damaged skin is replaced by new, tighter skin with diminished fine lines, wrinkles, scars, and discolouration.
The results of chemical peels are not as long-lasting, and additional treatment is typically necessary.
Dermal rollers are used to increase collagen production by stimulating the skin using a jade roller tool. Micro-needling face rollers may also be used to create tiny tears and stimulate the body's natural healing mechanisms.
3. Laser Treatment
Target Areas:
Wrinkles
Uneven skin
Sun damage
Acne scars
Rosacea
Rejuvenation through laser treatments that treat the skin and irregularities through the use of focused light energy has advanced substantially in recent years.
Light energy is typically used to either stimulate the production of collagen in the skin by inflicting a controlled burn to stimulate the production of new, healthier skin.
Your results will depend on the condition of your skin before treatment, and it is likely that a series of treatments will be required to obtain your intended results.
Are Non-surgical Treatments Best for You?
Non-surgical treatments are a cost-effective means of improving the health and appearance of skin without committing to the downtime and potential danger of surgical facelifts.
The right treatments for your skin depend entirely on your circumstances and your facial aesthetic goals. Contact your dentist for dermal filler and Botox in Southbank to get a better understanding of your treatment options.
Your clinician may also suggest a combination of skin treatment, injectable, and laser therapies to give you the beautiful results you are looking for in rejuvenating your skin.
Author's bio –
Mint Dental Clinic is a Dentist in Southbank, conveniently located just minutes' walk from Elephant & Castle Tube, in Lambeth. We offer a wide range of preventive, restorative, cosmetic and aesthetic treatments.
The following two tabs change content below.
Akshay Sharma
Hi! I'm Akshay Sharma. I'm a blogger at Imagination Waffle. I love to read and write about Fitness, Health & Lifestyle topics.
Latest posts by Akshay Sharma (see all)