5 Winter Must-Haves For Baby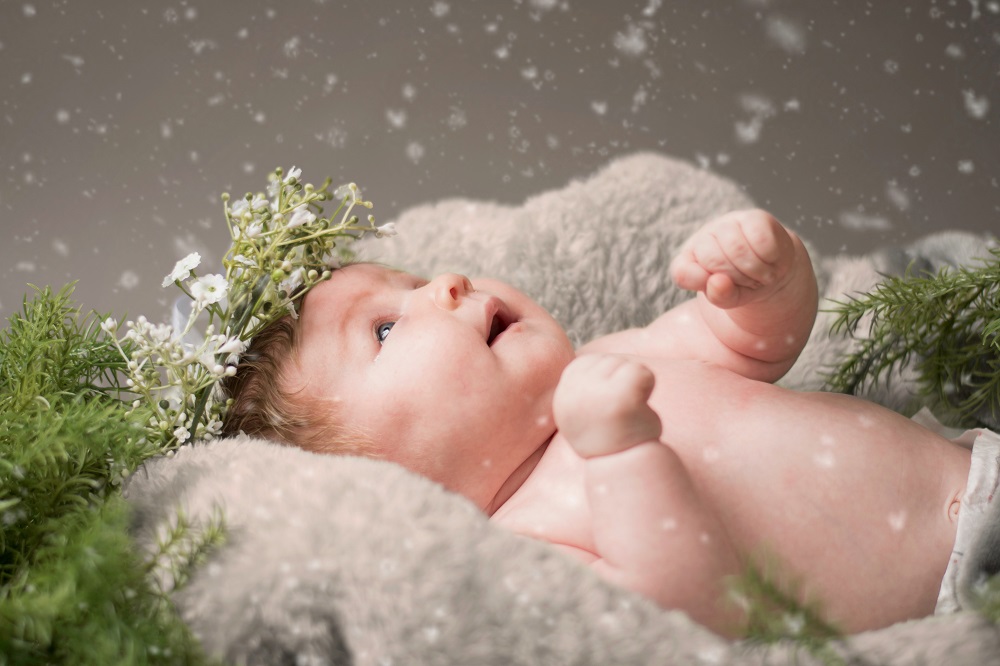 Winter is a lovely, magical time for babies who are just discovering the world; but as they delight in playing in the dazzling wonderland of snow and holiday decorations, it's critical to protect their tiny bodies from the cold. There's no need to stop taking walks through the park on clear, cold days or exploring your neighborhood during a stroll around the block with the whole family. Just as you take care to wear a coat, scarf, and gloves, you simply must make sure baby is prepared to experience the outdoor snowscape. This year, gear up with a few must-have winter essentials for your little love. After spending time in the crisp, fresh air, your infant will be bright-eyed, rosy-cheeked, and ready for a long nap.
A Onesie to Start
Anytime you take your baby outside in the winter, start the ensemble with a onesie. It doesn't have to be heavy flannel or fleece, but that depends on the temperature and what makes your baby feel comfortable. A onesie or romper is baby's most basic layering piece. In winter, longer footie onesies are the best option. They keep baby's legs and precious toes covered.
Once you reach your destination, you can undress your darling down to the romper for the purpose of comfort. While you're outside, however, that onesie will keep your infant warm from neck to feet. That way, you have less to worry about when it comes to arranging blankets and keeping your kiddo fully covered.
Since the onesie will be buried under various other pieces, not to mention a mountain of baby blankets, the material should be breathable. Remember, it's also the piece of clothing that's closest to your baby's sensitive skin. Consider stocking up on rompers made of soft, safe fabrics and materials. Organic cotton is an unbeatable pick because it's natural and breathable, but still cozy and comfy.
Baby's First Snowsuit
A snowsuit is a can't-miss piece even if your baby isn't quite old enough to play in the snow. If you're spending extended periods outdoors, or if temperatures really plummet, your baby needs plenty of coverage, and extra blankets won't always do it. A snowsuit retains heat while providing a thick layer of protection between your child and the elements. Besides, you can't deny that babies are adorable, trying to waddle around in a fluffy snowsuit. They look like tiny, clumsy marshmallows.
Onesies are definitely wintertime essentials. Typically thin and comparably lightweight, they're ideal for layering beneath snowsuits or thick winter coats, without overheating or inhibiting movement. A onesie is also easy to work with; you can simply slide a snowsuit over it, rather than struggle with your child's buttons or zippers.
Snowsuits are superior to coats because they're safer, as well. Don't forget: babies in car seats shouldn't wear jackets. In addition to being cute and practical, a snowsuit is the safer choice for your little one.
A Car Seat Cover
Car seat covers aren't that different from the seat covers you use on the grown-up seats. The cover fits over the car seat, covering all the plastic bits and keeping your baby warm. They help to retain heat, which is vital for an infant who's about to take a ride in a cold car. You know how cold your seats are the first time you slide into your vehicle on a winter's day or night; imagine how that feels to your sensitive little one.
A Cozy Cap
Winter offers the perfect excuse to accessorize. Top off your baby's outfit with a hat before you leave the house. It's adorable — baby hats are always adorable — but it's also functional. Consider a cozy top knot hat that covers your darling's entire precious head, or opt for a knitted beanie. A warm winter hat with flaps that cover the ears will work for short outings. Infants who are out in the winter weather for more than an hour or so ought to have a baby balaclava that covers most of the face. Some tots may not like that method, but that's okay.
A Stroller Cover
You can still keep the cold air away from your baby's face and body while you're out exploring the winter landscape together by popping a cover on the stroller. A cover acts as a windbreaker, but it also protects your baby from snow and rain. You can find covers made of plastic, PVC-free materials, and insulated materials. Just make sure it fits your stroller.
Babies love experiencing the change of seasons, and winter is always a favorite. The snow, the holiday lights, and the cheery atmosphere are intriguing to infants. Watch your baby experience everything—except for the cold. What are your wintertime essentials?
Author Bio:
Tess DiNapoli is a brand expert for Hatched Boutique who enjoys freelancing writing in her spare time. She writes about the latest styles for both women and children.
The following two tabs change content below.
Akshay Sharma
Hi! I'm Akshay Sharma. I'm a blogger at Imagination Waffle. I love to read and write about Fitness, Health & Lifestyle topics.
Latest posts by Akshay Sharma (see all)