Why Fertility Counselling is More Important Than You Think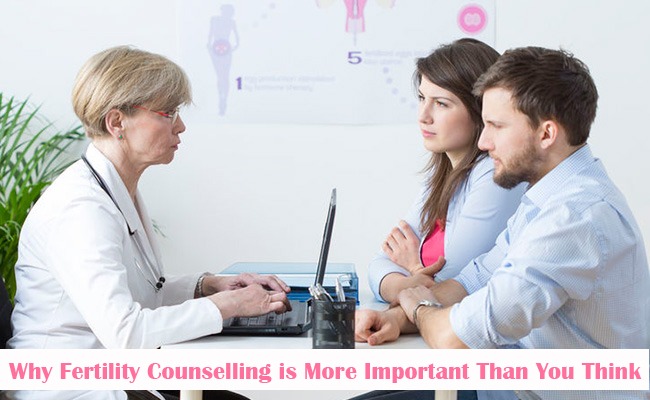 Infertility is a common condition. Around 60 to 80 million couples worldwide suffer from infertility.The current clinical definition explains infertility as "the inability to conceive after 12 months or more of regular unprotected sexual intercourse."
For couples who desire pregnancy but are unable to conceive, this can cause a great amount of stress and burden. It may also lead to various psychological problems such as depression, anxiety, loneliness, frustration, or hopelessness. This is where counseling can help.The focus of fertility counselling is on helping couples address their emotions in regard to infertility and move forward in a positive way.
Over the past few years, this type ofcounselling has gained significant importance. Mental health professionals and medical workers together provide patient-centred counselling to help couples cope better with infertility.
Counsellors can help couples in a variety of ways:
There is no single cause of infertility. Hormonal issues, genetic factors, low sperm count and many other factors can contribute to infertility. Counselling can help in diagnosing the root cause of the problem so that it becomes easy to take the next step. An infertility therapist will also educate the couple of options available to them and educate them about those processes.
One of the major benefits of counselling is that it can provide emotional support to patients who are distressed. It can aid them in using resources that will better help them in coping with situations in and outside the clinic. During counselling sessions, the couples get an opportunity to talk about their struggles in a safe and nonjudgmental environment. This can alleviate a lot of stress that they usually face alone.
For people who are suffering from serious psychological symptoms, such as that of major depressive disorder, psychotherapy is an option. It is an intensive therapy offered only by a qualified mental health practitioner, for example, a licensed psychologist. Although this type of counselling may take a longer time, it is immensely helpful for those dealing with severe challenges.
Couples may also receive decision-making counselling at important steps during their treatment and it can guide them in taking the most appropriate course of action. Some options may not be practical for their situation while others may be better suited. Counselling or therapy will equip a couple with knowledge to help them make the right decisions.
Counselling can also help couples in accepting their crisis and learning how to constructively deal with their problems. Couples would also be able to communicate better and develop a closer bond through therapy together. In therapy, they learn how to change their maladaptive styles of coping and develop a deeper understanding of how infertility is affecting them so they can deal with it better.
Someone can consider undergoing infertility counselling if:
They are currently seeking treatment for infertility.
They are having a hard time deciding which path to take next in their infertility journey.
They are facing psychological or emotional problems in relation to infertility.
They are facing problems in their relationship with their partners.
They are considering gamete donations, surrogacy, or adoption.
They would just like more support.
In any case, infertility therapists are trained professionals who have experience dealing with people affected by infertility and know how to address the concerns and difficulties a couple may have. Sometimes when there are issues in a couple's life that were avoided or shrugged off, counselling can bring them to the forefront and provide a resolution so that they don't cause any harm later.
The therapists are often available right from when fertility testing takes place till the time the couple has reached the end of their journey.
Fertility counselling is highly beneficial for anyone struggling with infertility and its effects on their life. Since infertility is an emotional experience, the aid of a trained therapist can make the whole journey a little smooth for the couple.
The following two tabs change content below.
Akshay Sharma
Hi! I'm Akshay Sharma. I'm a blogger at Imagination Waffle. I love to read and write about Fitness, Health & Lifestyle topics.
Latest posts by Akshay Sharma (see all)