Children's Birthday Party Ideas
For parents, birthday parties are about the milestones—you can't believe your little one just turned 6 or 12. For kids, birthday parties are about, well—the party! Of course, you want your child to have the time of their life, so that they'll remember this milestone and look back on it fondly. You want to do your best to make sure you make their wishes come true with a truly awesome party. This is a quick and easy guide to help you do just that.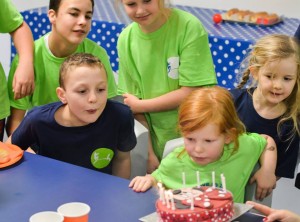 Choosing a venue
Where you have your child's party is easily one of the most important decisions you'll make during planning.
Home
Home has lot of advantages—it's ostensibly free, and you don't have to go anywhere. But there are some major cons that might outweigh those pros. There's set up and clean up, which are both generally far more onerous at home than at an outside facility. Then there's the issue of activities. Party games sound fine in theory, but someone has to lead them, and you'll find a pack of seven year olds will run you ragged long before they've run out of energy. If you do opt for home, you may put some of your cost savings into hiring an entertainer or two to lighten the load.
Party Hall
A party hall avoids some of the disadvantages of home—namely the mess and the cramped space, especially for larger parties! Party halls may also offering catering services or even decorating services, which can alleviate some of the preparation stress. You'll still need to sort out entertainment; all in all, a party hall is a bit pricier but often far more convenient than home.
Activity Centre
An activity centre that fits your budget may offer the most advantages. You won't have to worry about children being bored; whether it's an arcade or a trampoline park, there'll be plenty to do. Music and food are typically taken care of, and many have children's party packages that will even handle decorations and party favours.
Choosing activities
If where is the most important part, how you'll occupy the guests once they arrive is a close second! If you opt for home or party hall, you may want to hire an entertainer or two. Keep in mind that you'll already likely be tired from preparing for a party (even if most of the preparation is mental!). Here are a few ideas for entertainment:
Magicians—everyone loves a good party trick
Face painters—make sure there's plenty of time for everyone to get a turn
Balloon artists—balloon creations are a great party favour
Costumed characters—let your child meet one of their heroes
If you opt for an activity centre, this part is far easier—you just have to choose the centre itself and the activities are taken care of. An arcade can help keep video game lovers happy for hours, for example.
If you want your child's birthday to be a bit more health conscious, and to make sure that everyone puts that cake and ice cream energy to good use, you could choose a more physical activity. There are loads of fun indoor play centres that offer great children's party ideas. For some of the best children's birthday parties London has to offer, you can also look into trampoline parks and gyms. Absolutely nothing helps kids expend excess energy while having a truly joyful party experience the way bouncing on trampolines does. Whatever you choose, remember that the love and care you put into preparation is the important thing—and congratulations on your child's next milestone.
Resource :
http://www.articlesbase.com/art-and-entertainment-articles/childrens-birthday-party-ideas-7389162.html
Please follow and like us:
The following two tabs change content below.
Akshay Sharma
Hi! I'm Akshay Sharma. I'm a blogger at Imagination Waffle. I love to read and write about Fitness, Health & Lifestyle topics.
Latest posts by Akshay Sharma (see all)