6 Subtle Eye Makeup Looks To Wear With Your Bold Lipstick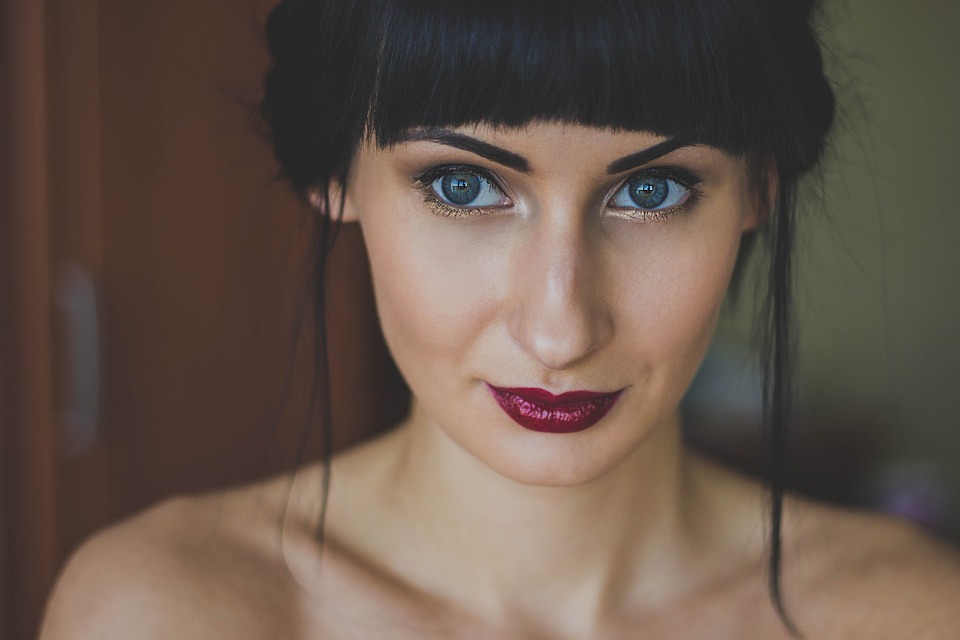 It's safe to say that a bold lipstick is one of our favorite accessories. It's a quick and easy way to define our looks. Whether it's your classic red, an eye-popping coral, or a vampy purple shade, there's an option for every lip color, skin tone, and occasion under the sun.
Next to finding the perfect shade, what truly makes or breaks it is matching it with the right eye makeup look. Pair your bold lips with an equally striking smoky eye makeup and you'll look overbearing. On the other hand, going for dramatic lips with zero makeup (aka blotchy skin and tired, puffy eyes) also doesn't quite give the "natural glow" you're looking for.
So if you want your bold pout to stand out, here are 6 subtle eye makeup ideas that always work!
Naked but flawless lids
One surefire way to make your bold lipstick shine? Leave your eyes bare. Keep those eye shadow and eye pencils away because you're not going to need them.
But when we say "bare" we don't really mean naked – it's important that your skin around your eye area is completely flawless.
The perfect combination of a full-coverage foundation, concealer, eye primer, and mascara are all it takes to get a brighter, more glowing pair of peepers. If you have dark circles, redness, or puffiness, prep using an eye serum, eye cream, or cold compress first.
Contour your eyes
Add depth to your peepers by sweeping a medium-brown shadow into your crease. Contour the eyes based on your eye shape: round, almond, monolid, hooded, protruding, downturned, and upturned. It's the same principle as contouring your face: light comes forward and dark recedes.
It's a subtle move but it makes a big difference since the contrast makes your lids pop while allowing your dramatic lips to shine. Make sure to apply primer first to avoid creasing. Apply a bit of highlighter to your brow bone too.
Line the upper lash line
Feeling a little naked or underdone? Try lining the upper lids with black liner. This will give your eyes subtle definition without taking the attention away from your bold pout. The classic look goes with any lipstick hue too.
Line it in small, slow strokes to gradually increase the thickness as per requirement. Don't forget to get your lashes and brows done.
Rock the black cat eye
A winged eyeliner is a notch higher than the previous look – it the perfect balance of boldness and precision to work with a bright lip, giving you that chic retro vibe. Just adore how the lady in the photo above effortlessly rocked the cat eye + red lippie look!
A straight sharp flick gives you an edgy look white going for a curvy flick gives you an elegant aura. Just make sure you create a good base for your cat eye (clean and moisturize, depuff, and prime) and your eyeliner is inky dark and faultless.
Line the upper lash line in slow strokes.
Find the right angle. Follow the natural shape of your eyes to determine where your flick would go. Rule of thumb: Imagine your lower lash line is extended. Use an eyeshadow or angled brush to roughly map out the flick.
Create the flick by using dotted motions with your eyeliner (just to be safe). When you're satisfied with the shape, join the dots and fill it in to connect to the line drawn above your lash line.
If the shape is a bit unsteady, clean it with a cotton swab. Correct it with concealer too.
Put your white eyeliner to use
Bored of your black eyeliner? Go for white.
While they're not as top-selling as black liners, white liners could do many wonders to your look. It's the perfect color to wear to make your eyes pop by giving the illusion of bigger eyes and allowing your mascara to look more volumized.
You can use it for a white cat's eye – a twist with our favorite look, white inner corners, white waterline, and doubled liner (black and white liner combo) look. Whatever trick you use, your frosty-looking peepers will sure help make the color of your lips be the star of the show.
Full lashes + Full brows
Whatever eye makeup you want to pull off, whether it's a "no-makeup" look or a winged eyeliner, never forget these two: your eyelashes and your eyebrows.
Mascara alone can make your eyes look and feel fresh and energized. Load up on your upper and lower lashes. If you're not gifted with lush lashes, don't hesitate to level up your everyday mascara with falsies.
Another simple way to define the eyes without taking the attention away from your lustrous lips is by grooming the brows. With tons of brow makeup courses online, you can never go wrong. Swipe brown mascara to add that touch of "natural beauty." Complete the look with a pale peach or pink blush for your cheeks.
Author Bio: Mina Natividad is a resident writer for Napoleon Perdis Makeup Courses, a leading luxury makeup brand in Australia, which prides itself in delivering top of the line cosmetics and makeup courses. Sticking to the heart of the cosmetics brand, she aims to empower women with articles about style and beauty.
The following two tabs change content below.
Akshay Sharma
Hi! I'm Akshay Sharma. I'm a blogger at Imagination Waffle. I love to read and write about Fitness, Health & Lifestyle topics.
Latest posts by Akshay Sharma (see all)