Tips on Styling Diamond Jewelry With Traditional Dresses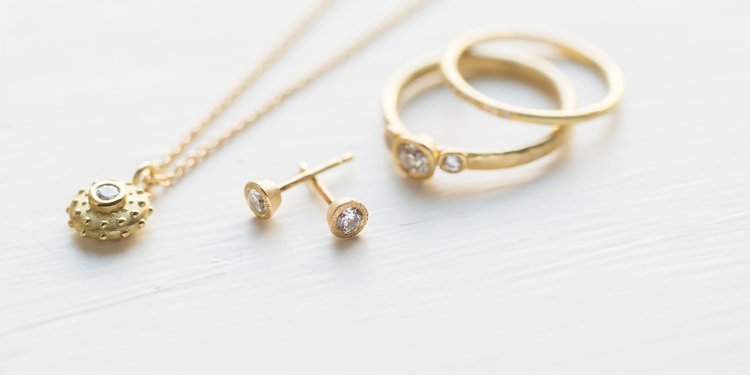 Diamonds are forever! Indeed, they are one of those rare and precious gems that are timeless and can be paired with any dress designs. Be it about flaunting it with a little black dress or a traditional saree, diamonds have all the beauty and ethnicity to lend you a new look every time. Shining like a christening stone, these live up to transform your style forever.
When pairing traditional dresses like Lehenga, Saree or even suits, diamonds can be styled marvelously to make you stand out from the crowd. Wondering how to pair your favorite pair of studs or diamond rings for ladies with your traditional outfit? Here are some ideas to go for!
Classic wear                                                                                                                                              
There is no denying that classic diamond jewelry i.e. solitaire rings, diamond studs or even a small pendant can ooze a different charm when worn with classic traditional outfits. You can team up your vintage gown, block dresses or even a Benarasi Saree with classic diamond jewelry to claim a rather classy and surreal look. The key is to keep it minimal and adorn just the charm of diamonds to make your look stand out.
Going traditional
Traditional wear often includes a lot of cultural designs, ethnic motifs, and details that connect. These outfits are best paired with uncut diamonds. Diamonds studded in gold or platinum with traditional designs work best in matching the traditional outfits. Think of traditional bangles with diamond studs or necklaces and earrings that revere vintage charm. Its always best to pair your traditional outfit with traditional jewelry but keep it minimal.
Statement look
When worn correctly – the shine of diamonds cannot be ignored! These make for a great statement look when you have the right piece in your hand. Pair your heavy suits and sarees with drop diamond earrings for the entire look to look flawless. The idea is to go low on accessorizing and keep the attention to diamonds only. Skip the necklace or heavy rings and pair just a big diamond earring with the traditional outfit to be at the forefront of style parade.
Layered Diamond Necklace
Diamonds aren't just meant for simple or minimalistic looks – they go perfect for giving you a heavy and put-together look. Opt for a heavy saree or lehenga and instead of just one, layer your diamond necklaces in a good pattern. As you go heavy on the neck, the shine and charisma of the stones lend eccentric style. These are perfect for the brides, bridesmaids and even other women attending a function or family event. You can also opt for gold ring designs for women and stack some rings on the fingers to keep the attention more on the neck. With the right hairstyle and accessories, you can take your look a few notches higher.
Get party-ready!
One of the most exclusive ways to revere your love for diamonds is to wear exceptional jewelry made of diamonds. Pick diamond bracelets, mangtika or even solitaire rings to get your jewelry love noticed. Embrace your style and pair them up with the right traditional outfit for maximum exposure. Amp up your saree look as you pair it up with a diamond maangtika. Grace your simple chiffon saree with a diamond bracelet and watch to pair with. Add glam to your salwar suit as you wear one heavy diamond ring for the day. With the right pair, you won't fail create an impression.
Diamonds can match up with denim, short dresses, maxi dresses, sarees and lehengas alike to craft a special look for your every time. The key lies in mixing and matching the jewelry to play with your looks and cast an impression. Don't forget to keep your makeup and hairstyle on point!
The following two tabs change content below.
Akshay Sharma
Hi! I'm Akshay Sharma. I'm a blogger at Imagination Waffle. I love to read and write about Fitness, Health & Lifestyle topics.
Latest posts by Akshay Sharma (see all)