Tailgating Traditions in The Big Ten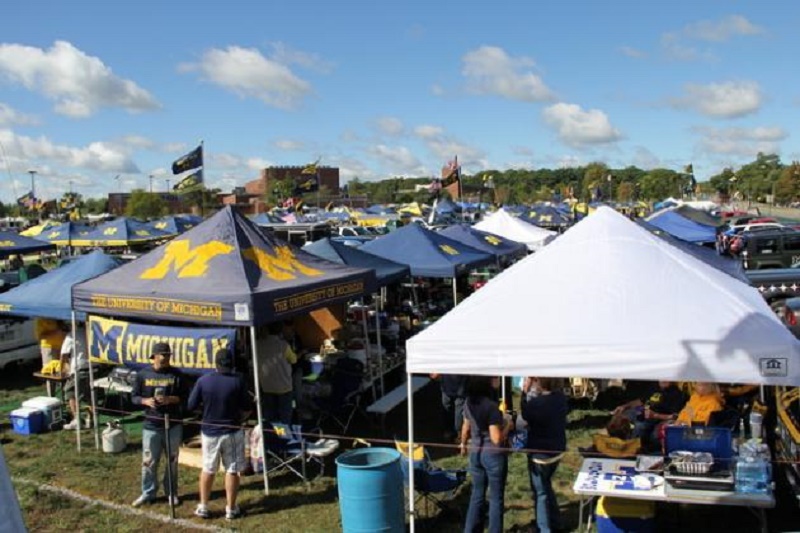 All across America, college football dominates Saturday during the fall. Some of the best football in the nation is played in the Big Ten conference, where you will find perennial powerhouses like Michigan, Ohio State, and Wisconsin. The college football experience goes beyond simply watching the game at home on your big-screen TV. Because when there is a game scheduled in one of these college towns, it is guaranteed that fans will be participating in a time-honored tradition: tailgating.
Tailgating is essentially a gigantic fusion of picnic, barbecue, and outdoor frat party. It's all organized around the sporting event, complete with on-theme lawn games, local food specialties, and even high-definition television screens to watch the entire slate of games! While some fans migrate from the tailgate and actually attend the game in the stadium, many more simply spend the entire day at these parties. Here are the kinds of things you can expect at your standard tailgate at some of the Big Ten schools.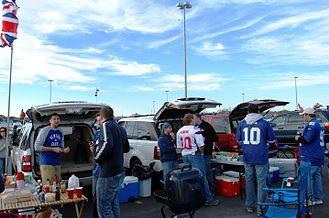 Foods
At a tailgating party, the food is second in importance only to the actual football, and if your team isn't particularly good, then the football takes a back seat. Much of the Big Ten is located in the American upper Midwest, so you will be treated to a great deal of high-quality grilled meats. Whether you're attending tailgates at the University of Wisconsin or Penn State, you can be assured that large grills will be cooking locally-prepared bratwursts, hamburgers, and hotdogs. If you're lucky (or in charge), you can also find all types of steaks, chicken, and warm stews during the cold-weather games.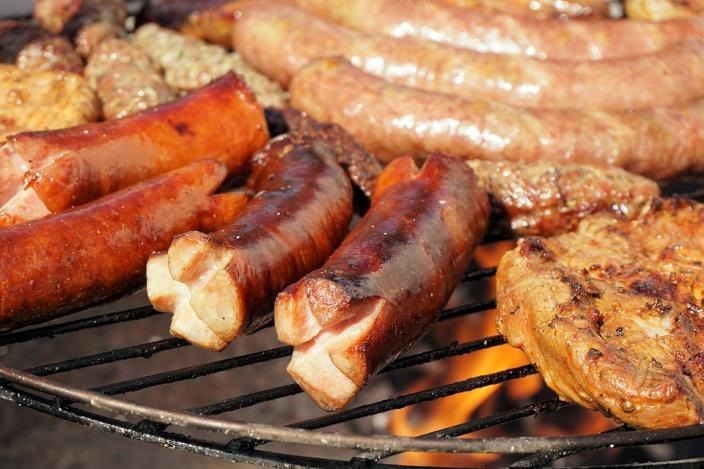 In addition to the main courses, there are plenty of local side dishes. Standard picnic sides like potato salad are everywhere, but you can probably find some German potato salad or multi-layer dips if you look hard enough. Often, you won't even know exactly what there will be to eat at a tailgate party, and that is at least half the fun. Always remember, if you are attending these parties and plan on partaking in the delicious offerings, it is crucial to bring a contribution. In that sense, you can think of these tailgates as gigantic, unorganized potlucks.
Drinks
Fans wash all that food down with copious amounts of alcohol, to the extent that many college towns alter or otherwise relax the alcohol laws to accommodate the tailgating parties. The standard B.Y.O.B. rule applies here, as well. If you plan on drinking, you should plan on bringing your own alcohol to share with others. Swapping is encouraged!
In the Big Ten, perhaps more than any other conference, beer is king. After all, we're talking about places like Wisconsin, Michigan, and Illinois. As a result, you'll definitely be able to find your standard popular beers from Budweiser and Coors. However, due to the popularity of local craft breweries in these communities, there will also be plenty of obscure beers as well.
Some fans partake in harder drinks, even though many of these tailgates start very early in the morning. Bloody Marys or orange-juice-based cocktails are particularly popular since these drinks can be made in large batches. Later on in the day you may find more standard cocktails, from Long Island Ice Teas, to your standard spirit + soft drink concoctions.
Of course, you should also be mindful of the local liquor laws, which can vary from state to state. For example, while Illinois recently banned the open carry of hard liquor, Wisconsin decided that alcohol needed to be sold earlier. Now it is available as early as 6:30 a.m. on game days.
Entertainment & Games
Eating and drinking pass a great deal of the time, but there are other activities as well. The picnic atmosphere is very welcoming to standard lawn games, and you'll find lots of them. Baggo (also known as "cornhole") is abundant, and you can often find people with custom bean bags and boards showing their allegiance to their team.
Other games include ladder golf, bocce ball, and even croquet! Of course, given that this is all an ode to college football, it is pretty easy to find someone to throw the pigskin around with. On some campuses, you can even find organized pick-up football games.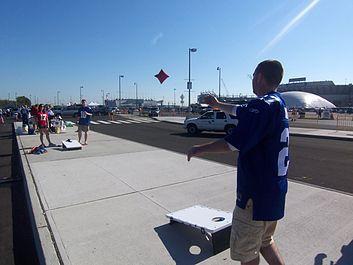 If you're in the mood to relax, you can usually find a place to actually watch football. Many tailgaters sport fantastic television setups, complete with satellite subscriptions and high-definition televisions to watch all the best games live. You certainly don't want to miss the action across the nation while you are partying.
It is usually possible to find the precise contest you're interested in, and plenty of fellow fans as well. The camaraderie and team spirit generates a great deal of fun. Of course, you'll often run into fans of rival teams as well. Though taunting and arguing is part of the deal, as long as it's reasonably cordial, it is all in good fun.
Location, Location, Location
Lastly, perhaps the most interesting aspect of tailgating involves finding the local hotspots. Most tailgaters participate in this tradition for every single game. Due to the popularity, it can be difficult to obtain a location for your tailgate. Hence, the entire operation is well-planned. Most fans scope out the exact same location week after week and arrive hours early, marking their spots by parking cars or placing large tents.
As you can imagine, this results in a crazy first-come, first-served situation. It pays to be early, to the extent that some people begin setting up their parties on Friday!
Once all the prime locations are claimed, it can be difficult getting around the local town due to the high foot traffic. Thus, it is important to plan out your travel arrangements in advance. This includes parking, the walking route you will take, and being sure to allow extra time for travel in case of severe traffic.
Finally, most college towns aren't shy about advertising the best tailgates they have. You'll be rewarded for doing research before showing up on campus. For example, "Hineygate" at Ohio State University attracts sponsors and major vendors, so it would be a great place to go if you don't have a specific tailgate to attend.
Conclusion
There is no atmosphere quite like that which surrounds college football. There is always amazing food and drink, and every city in the Big Ten brings its own delicacies to the table. It is a gigantic picnic where everyone loves football and decides the entire city should embrace that love.
Author Bio:
This article shared by Jennifer Cantis. You can check out her blog :- Baggo.com
The following two tabs change content below.
Akshay Sharma
Hi! I'm Akshay Sharma. I'm a blogger at Imagination Waffle. I love to read and write about Fitness, Health & Lifestyle topics.
Latest posts by Akshay Sharma (see all)