How to Make Drinking Milk Fun for Kids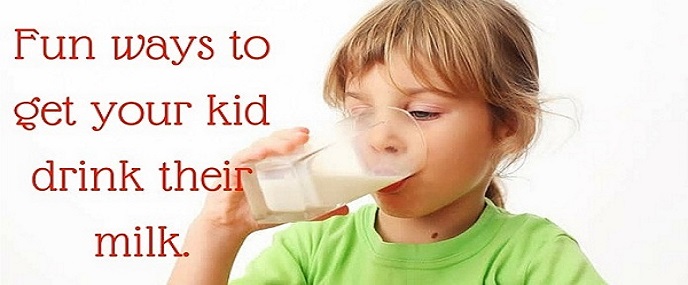 If you are one of those parents who think that drinking milk is not a big issue and without milk, they will be healthy, you are mistaken! Milk is really important for kids as it is good for health and immune system. If your kid does not get any calcium or nutrients, it can affect the overall health of your kid. It's a good habit to have but in the starting, it can be a little difficult getting your kid to drink milk.
Here are some tricks to make the activity of drinking milk fun for your kids:
Different Yummy Flavors:
In childhood, we used to ask our mum to give us chocolate milk or kesar-Pista-badam milk as it was kind of tasty and fun to drink. We used to get excited just by hearing that Bornvita is in the house and from now we will be able to stir a spoon of it in our milk. Just like that, you can buy tons of fun flavors available in the market like vanilla, chocolate, strawberry and what not. Mix a spoon in a glass of milk and see your kid finish it in no time!
Colorful & Twisted Straws:
Have you ever seen your kid go crazy for twisted straws in the glass of lemonade or smoothie? There it is! You can use these straws to attract your kid towards milk. Just pop one in their glass of milk and see the level of their excitement!
Frozen Milk Can Also Work:
In summers, you can serve your kid a glass of frozen milk. Just blend 10-12 ice cubes into a jar of milk and sugar and give it a spin for a tasty, frozen treat. As kids love to have ice cream, they will surely love the frozen milk as it is similar. For an added taste, you can also sprinkle some gems or sweet candy balls on the top to make it colorful.
Attractive Cups:
You would have noticed the reaction of kids in malls or supermarkets when they see colorful and attractively shaped cups. A cup in your kid's hands of their favorite color and with a print of their favorite cartoon character can change the story. That glass of milk will become special for your kid! Kids often feel independent when they hold a cup of milk and drink themselves.
Food Colors:
On days, when you have some extra time, you can use food colors. You can make your kid stand beside you and play with the color of milk by dropping 1-2 drops of any food color and make them super-excited for milk. This is one of the great ways to make your kid drink milk!
If you tried everything listed above and nothing worked, you can try telling stories or body stories to your kids while making them drink a glass of milk. That works every time without any doubt.
Sometimes, it can be impossible to make your kid drink milk but as it is essential for growing kids, try some of the tricks from above to make drinking milk as a fun task!
Author Bio-Sid Gurg is an expert writer and blogger with a strong passion for writing. He shares views and opinions on a range of topics such as Business, Health/Fitness, Lifestyle, Parenting and lot more. He works for Dental Clinic and helps you find the best Dentist Auburndale NY City.
The following two tabs change content below.
Akshay Sharma
Hi! I'm Akshay Sharma. I'm a blogger at Imagination Waffle. I love to read and write about Fitness, Health & Lifestyle topics.
Latest posts by Akshay Sharma (see all)