What's So Attractive About Dubrovnik?
Few cities in the world can give you more immersive experience of the times gone by than Dubrovnik. A walled city located on the southern coast of Croatia, in Central Europe. Characterized by its thick medieval walls, soaring battlements and massive gates, a visit to Dubrovnik will transport you back to a time when this fortified city was a major naval and trading power, commanding the third largest navy in the Mediterranean.
Beautifully preserved, the city has for long been Croatia's top tourist destination and it's garnering even more attention as more people learn about the city's top sights and attractions. More recently, Dubrovnik has become one of the locations where popular TV show "Game Of Thrones" is filmed. Seems more than fitting considering its rich architecture. Short walk among the walls of Dubrovnik will make it easy to understand why the city has been crowned with the flattering moniker, "The Pearl Of The Adriatic".
But you still might wonder, what's makes this city so attractive? Read on, as we will give few tip for first time visitors of this ancient city.
Panoramic Views Of The City
For start, it's not a bad idea to familiarize yourself with the city. And the best way to enjoy panoramic view is by gliding to the top of nearby Mt. Srdj on a modern cable car. The cable car station is located just a few meters outside the city walls and offers a quick, easy and scenic mode of transport to the peak of this ragged little mountain.
While riding to the top, the whole Dubrovnik will open up for you. Majority of its city walls are visible from here, as well as Lokrum, a nearby island located northeast of Dubrovnik. It is an impressive scene, so keeping notes on what objects you would like to see and visit is a good idea. The top of the mountain has welcoming infrastructure, restaurants and souvenir shops in addition to a small museum and memorial commemorating the 1991's Homeland War. For those more adventurous, taking a hiking trip up to the mountain top is also a possibility.
The Cathedral Of Assumption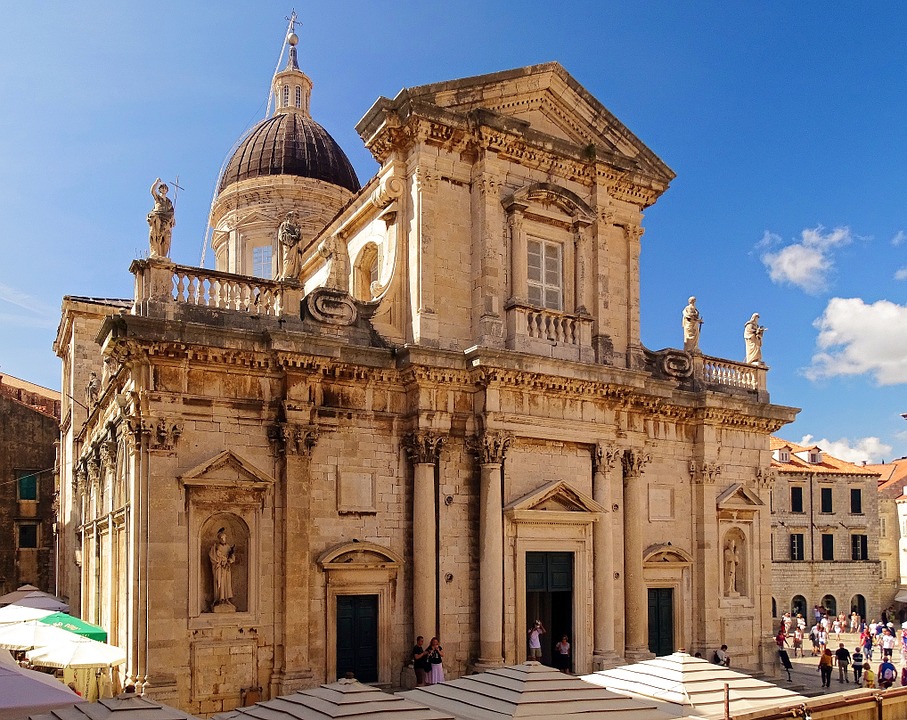 Finished in 1713, The Cathedral Of Assumption was built on the site of a 12th century basilica that was destroyed in the 1667 earthquake. This impressive baroque structure is one of the favorite tourist's locations in the city. Among its most interesting features are remarkably designed altar and grand collection of religious painting. With the most striking of it being the triptych of "Ascension Of Mary" by Titian, painted circa 1550. The main altar is woven with gold and silver and it contains relics of Saint Blaise – the patron of Dubrovnik. Cathedral in its collection has 138 other reliquaries, largely made in the workshops of Dubrovnik's goldsmiths in the 11th and 17th centuries.
Walk Along Dubrovnik's City Walls
A walk along the top of these medial walls is the highlight for many visitors of Dubrovnik. The walls circle the whole Old Town quarter and take at least an hour to fully explore. This series of defensive stone walls were constructed and reinforced between 12th and 17th centuries.
Almost two kilometers in length and peaking at about 25 meters in height, The City Walls have been recognized as a World Heritage Site by UNESCO in 1979. Fans of "Game Of Thrones" will easily recognize some of the sections here. The City Walls, along with plethora of other locations, have been chosen to portray capital city of King's Landing. This is seen as a great honor for Dubrovnik and its citizens, since the show is massively popular in Croatia as well.
Visiting Nearby Lokrum Island
Another filming location is nearby island Lokrum, where many of the scenes set in "City-State Of Qarth" were shot. This beautiful lush island is located just 600 meters away from mainland. Regardless, it's easily accessible, whether by local rent a boat services or by water taxi. You'll be there in less than ten minutes.
Island is full of black ash, holm oaks, olive trees and pines – making it almost total contrast to the urban environment of Dubrovnik. Its beautiful nature and pristine beaches have made Lokrum one of the most popular swimming and diving spots in this part of Adriatic. The island's main cultural hub is a large Gothic-Renaissance monastery built in 15th century.
Not far from there lays another location well worth of visit, that is Botanical Garden founded in 1979. Garden serves as a home for native and imported tropical and subtropical plants. As well as vegetation originating from Australia and South America. It's worth mentioning that Lokrum is is a Nature Reserve and a Special Forest Vegetation Reserve.
Forts Lovrijenac And Minceta
Back on the mainland are located Forts Lovrijenac and Minceta. Constructed on a towering rock overlooking the sea, Fort Lovrijenac was constructed to repel attacks from both land and water. Today the fort is a popular attraction that hosts a variety of cultural events. Everything is held here, from local productions of Shakespearean plays to the World Series Of Cliff Diving.
It would be unfair to write a piece on Dubrovnik without mentioning its symbol, Fort Minceta. This crown jewel of Dubrovnik's defensive citadel has played significant role in repelling attacks and siege attempts on the city. With its great Gothic crown that spreads over the side of the fort, Minceta stands proud and still, welcoming visitors who'd like to experience an amazing overview on the city of Dubrovnik.
As you must have already concluded, Dubrovnik is overall an impressive place. Especially for us who enjoy and appreciate learning about old European culture and history. In my time spent here, I felt like Dubrovnik is a welcoming place for anyone, no matter of what.
Please follow and like us:
The following two tabs change content below.
Akshay Sharma
Hi! I'm Akshay Sharma. I'm a blogger at Imagination Waffle. I love to read and write about Fitness, Health & Lifestyle topics.
Latest posts by Akshay Sharma (see all)